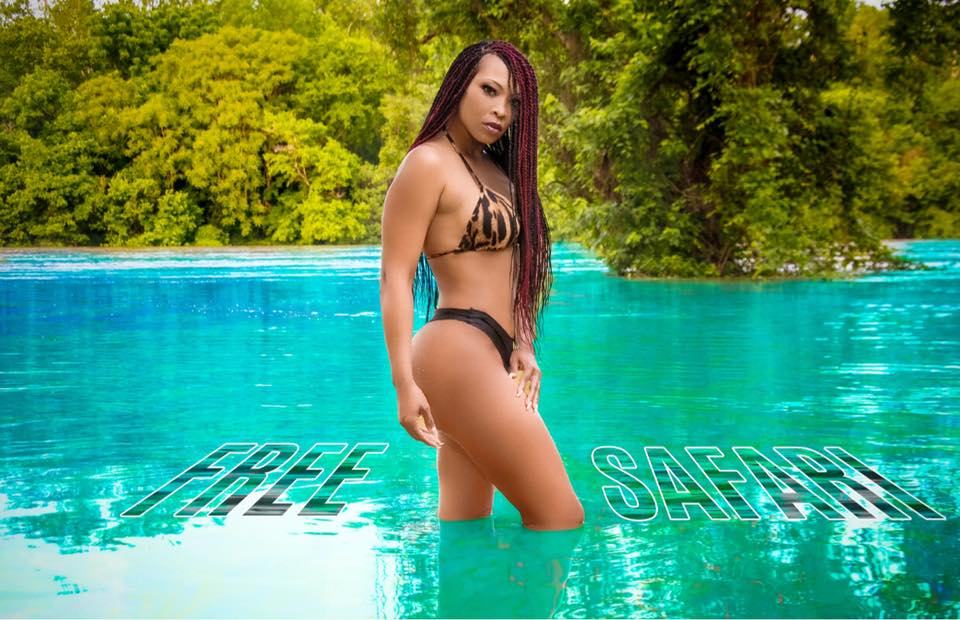 I've gotten to interview a lot of cosplayers, and I've enjoyed learning about them.  Each time I also learn a new aspect of this lifestyle and community we associate with cosplay.  However, this might be the most important interview I have participated in for this series.
Meet Free Safari:  a veteran, a survivor, an advocate, a fighter, and a cosplayer.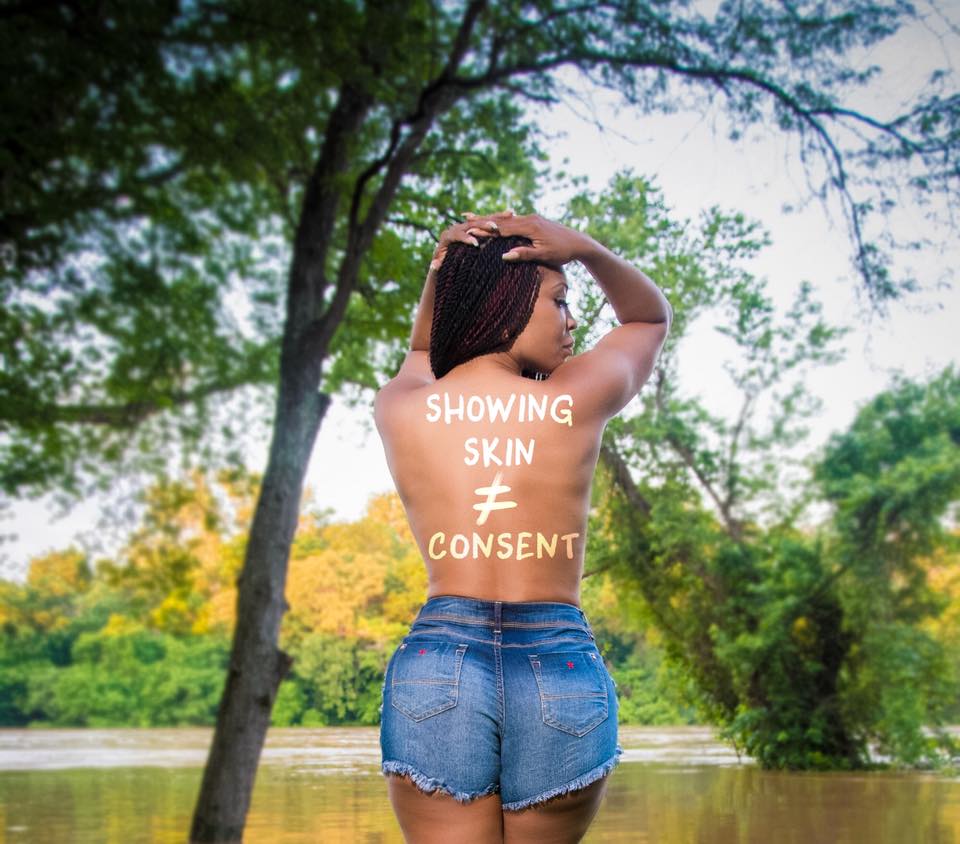 You are the second person in my "Up and Coming Cosplayers Series" that is from "DMV."  I have no idea what that means.   Where is the "DMV?" What is "DMV?"
DMV, DC, MD, & VA...I work in DC, live and from VA, and go to church in MD, so I'm all about the DMV.
How did you get into cosplay?  Was it something personal?  Was it a person?  Inquiring minds want to know.
My son is a comic geek, and like all Moms, I wanted him to have an outlet for his passion.  For years he's been asking to go to a con, so finally we went, and not only was he impressed, but so was I.  The community not only embraced my son, but I too was able to tap into my inner geek/Cosplayer.  Now we are a Mother and Son, cosplay team.  It is our "thing," and we love attending cons together.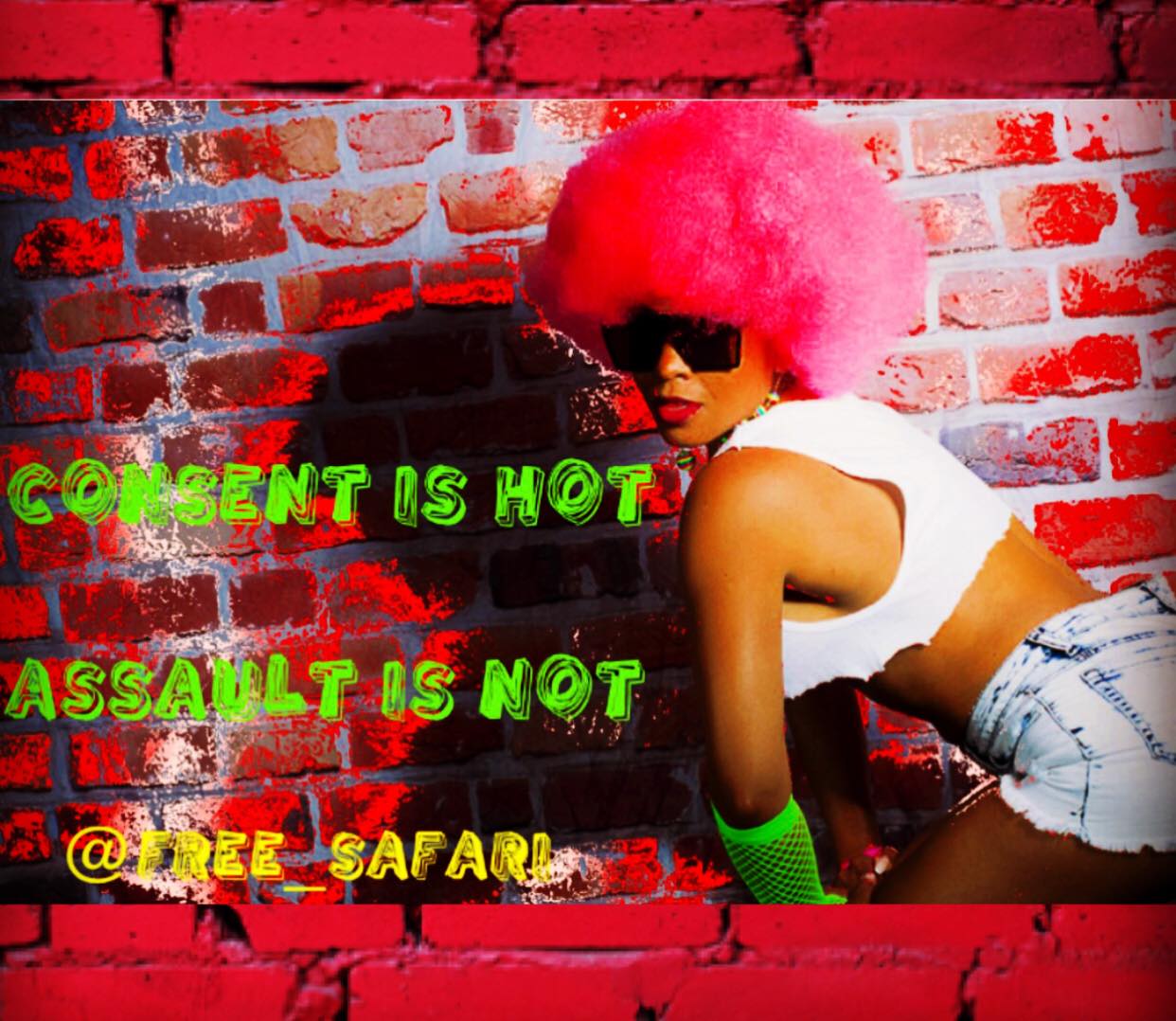 You don't have as many completed cosplays as most cosplayers in this series, but I was impressed by your passion for cosplay and your messages behind it.  I think it makes you as fit a subject as anyone in this series.   What are your messages that you express in your cosplay?
#CosplayIsNotConsent, #TheWayWeDressDoesNotMeanYes, #StigmaFree (Mental Health awareness)
I don't want to bring up anything uncomfortable.   Would you mind explaining why your messages are so personal to you?  You can get as deep as you want.   'Only what you want.
As a retired US Army Veteran and former victim of military sexual trauma, I suffer with PTSD.  I use cosplay as a form of expression, therapy, and an opportunity to help and educate others.  For me it is a therapeutic outlet that allows me to advocate on topics that include body positivity, consent, rape culture, and mental health. By tying my cosplay into educating the community, it not only makes cosplay fun, but also rewarding.  Although, these topics can get deep, it is fun, fulfilling, rewarding, and mentally freeing to cosplay "with a purpose".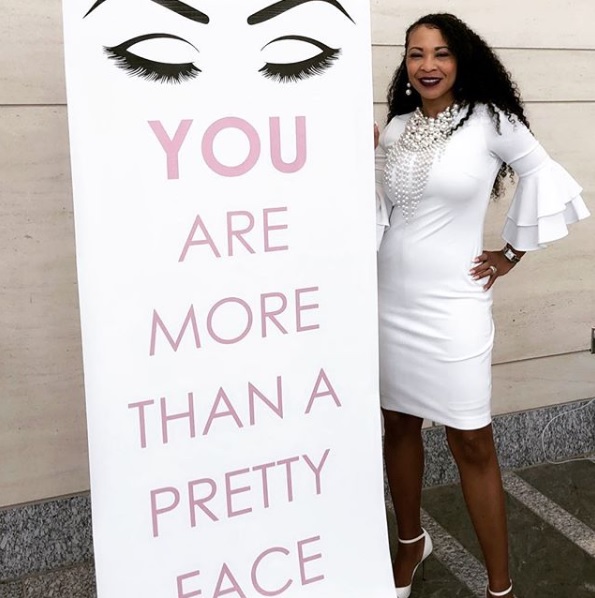 You have a very interesting and important job.  Do you mind telling us about it?   Does that choice of work have anything to do with your messages?   This may sound like a strange question, but are you able to use cosplay with your work?
I am an Equal Employment Opportunity/Civil Rights Director.  In this role I educate and advocate against sexual harassment and discrimination in the workplace.  So I guess you can say I live and breath advocacy, but it's personal to me because of my own personal life experiences.  In a day and age where women and others are still fighting for equality and being harassed because of their clothing choices, it would seem that my messages tie directly into what I do.  However, although there is a nexus, I don't really advertise my background in cosplay on the job, or my background as a Civil Rights Director in the cosplay community.  I've tried real hard to keep those lives separate, but maybe it's time to eliminate the blurred lines and simply let people know who I am.  Besides, my background dictates who I am as a person, why I love to do what I do, and also why I do it with such passion.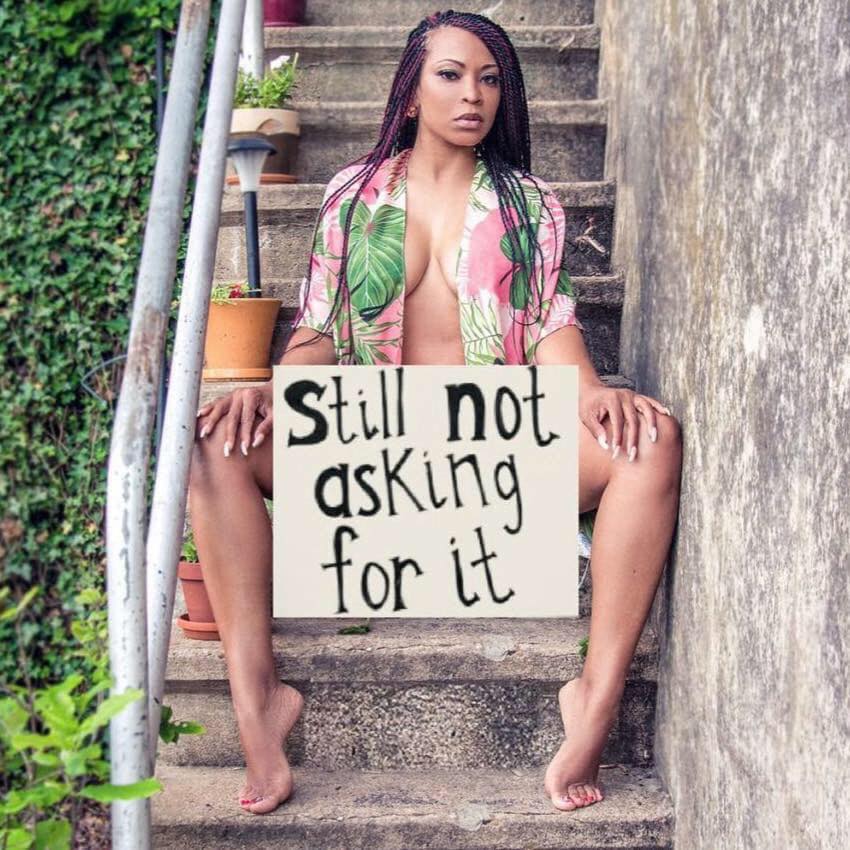 Do you find the cosplay community one that is already pretty sympathetic to your messages and causes?
The cosplay community is already sympathetic to my message and causes, but I've been told by one very respected Cosplayer in the community that if my cosplay is all about advocacy, people won't take me seriously.  But if Cosplay truly is for Everyone, there has to be a place for me, and I have to follow my heart.  Although because I cosplay with my son, not all cosplay will tie into my advocacy, but my son is also a mini advocate against bullying, and soon we will do characters from The Greatest Showman, and that makes me a proud Momma.
Your son also cosplays. How did he start?
Yes, as stated earlier I cosplay with my son.  While most kids looked forward to Christmas, my son's favorite holiday has always been Halloween.  My son always enjoyed visiting comic book stores, and I learned that he was a mini superhero encyclopedia.  He was very knowledgeable about the strengths and weakness of all superheroes and villains.  I took notice so when he started asking me about attending cons he was seeing on social media,  I knew I had to make the time.  My only regret is that I wish we would have started this journey much sooner, as it took a couple of years before I could find the time to take him.  His first cosplay was Kato from the Green Hornet, and I was Poison Ivy.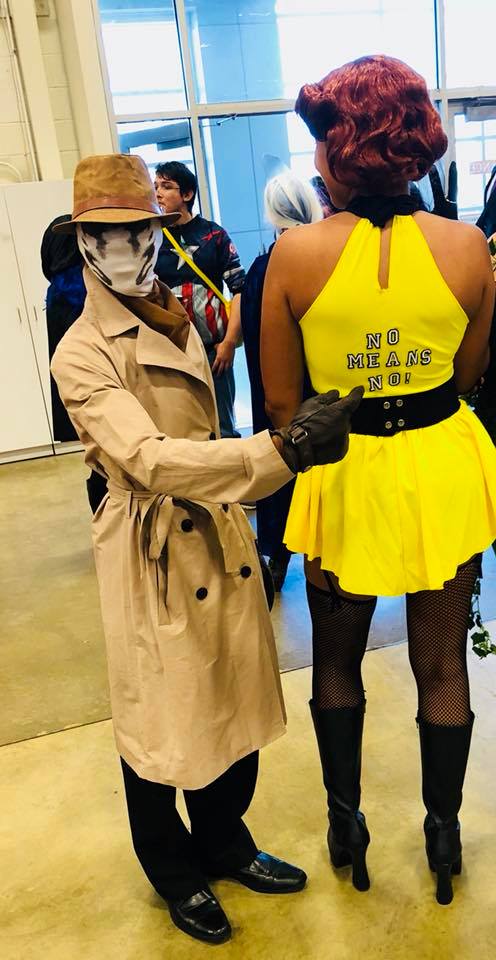 I've seen quite a few pictures of you as Classic Silk Spectre and your son as Rorschach.  Why is that duo so important to your messages?
My Silk Spectre costume reads "No Means No" on the back.  My character was almost brutally raped by her long time friend and teammate, The Comedian.  It was very coincidental that my son wanted to be Rorschach for a con (who actually rescued a victim from an attempted rape).  But, when he chose him, I immediately knew I had to be Silk Spectre.  She is a powerful character that was a Warrior who had to fight off a sexual assault in a time in Hollywood where hardly anyone blinked an eye or took notice that this was a huge crime against humanity.  The message in this scene was because of the way she dresses she was asking for sex.  This is a huge component of "rape culture" to make rape victims feel like it is all their fault. 
This is exactly how I felt when I was raped in a "Man's World", the military.   So like many, as a young inexperienced Army Officer, I suffered in silence.   I feared somehow being blamed because of what society had taught me and the treatment of women I had witnessed.  So, for me being Silk Spectre just felt right.  I can relate to her story, and I wear that costume as a proud Warrior Survivor. 
When I stepped into that role and learned that so many knew her story, it was a wonderful feeling.  For those who did not, I was provided an opportunity to bring awareness, and that feels amazing.  One guy asked, "Do you forgive him (referring to The Comedian)," and my character response was "Hell No, do you," but my advocacy response is "We have to learn to forgive ourselves and others in order to free ourselves and find healing."
Cosplay advocacy is nothing new, but it is definitely new to me and I love it!  Because I'm Still #SexyAfterSexualAssault
What is your son's favourite cosplay to perform?
I asked and he doesn't have a favorite, but does love picking characters that wear some type of hood/masks/hats.
Does he have an idea of what he wants to do in the future?
For Blerdcon he has lined up his first Anime character, Sting Eucliffe, from Fairy Tail, Deadshot from Suicide Squad, and the famous "rodent" (She meant Rocket Raccoon.) from the Guardian (She meant Guardians of the Galaxy.) (if we can get his fur issues worked out in time).  So of course, Mom's costumes will be in theme to match his vision.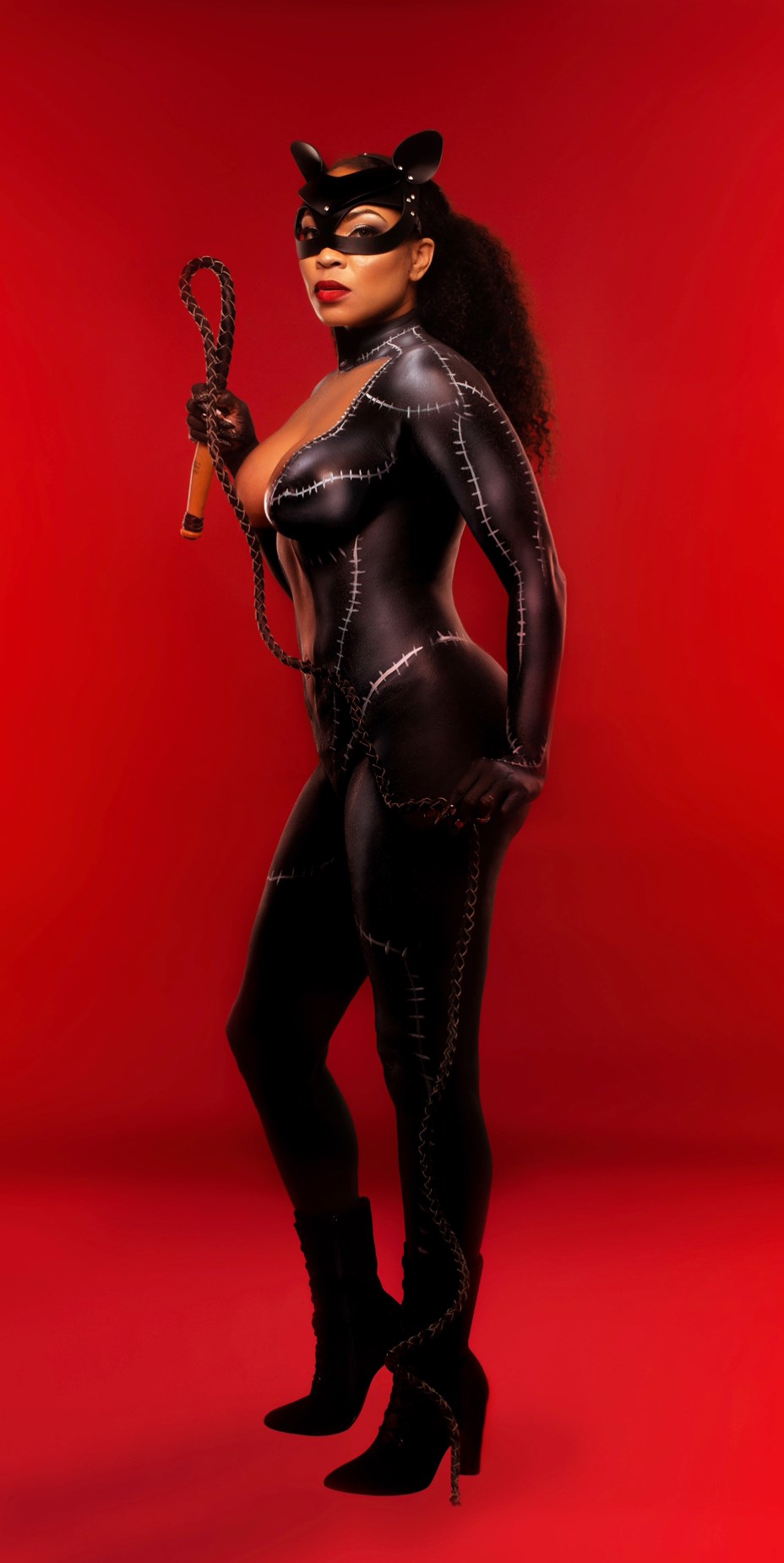 Is there a certain type of character that you are drawn to, to cosplay? 
I like my characters to be Sexy, strong, and have a powerful story from their past.
As a fledgling cosplayer, what are some aspects of costuming and prop making that you are interested in learning?
My son and I have recently bought a lot of Nerf guns, paint brushes and spray paint.  He wants to get into making weapon props, and I'm all for it because anything that involves art, I love.  He gets a lot of his craftiness from me.  I personally have owned sewing machines for years.  I want to find the time to take lessons, or learn from YouTube how to alter, sew, and design our costumes.
I have seen you also use modeling to promote your causes.  Was modeling your first love?   Do you do any other modeling for more conventional reasons?  'Any other forms of artistic expression?
Yes, modeling is my first love.  I grew up participating in modeling events and contests.  I also love writing poetry and acting.
My son and I have performed together in the DC Film Festival.  I also advocate at Spoken Word events through poetic expression (my last piece performed was dedicated to #MenToo).  I'm also a Vagina Warrior Ambassador, (a group that performs The Vagina Monologues and promotes awareness and advocacy in the community for women), and I plan to perform with them next year.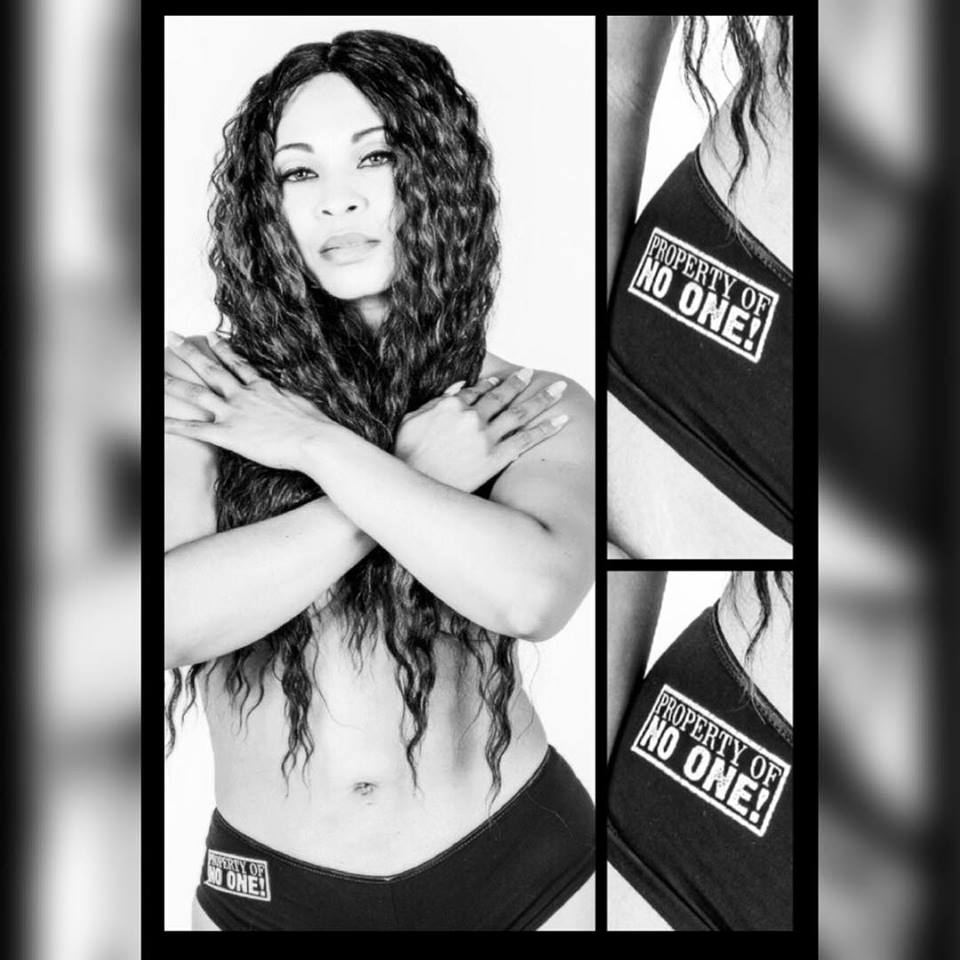 This is the part of the interview that I usually ask what you would like to say to our readers and your followers, but I think most of this interview has been about that.  Instead, how about telling us what you have learned from all of the people that you have met cosplaying?
I've learned that most Cosplayers are accepting and fun people.  I've also learned that although Cosplay is fun, it definitely is not "child's play." Cosplay is a series matter for so many, and everyone seems to always try to take their Cosplay to the next level.  I love to see the evolution of certain characters from beginning to advanced, and the journey the Cosplayer took to get there in pictures. 
I've also learned that Cosplay provides an escape for so many, and can be used in so many different ways to express oneself.  I particularly like to hear the stories of those who visit the schools and hospitals.  I've learned from them that Cosplay can provide joy, laughter, strength, and healing.  This community that my son and I have embarked upon is amazing, and I'm so happy that we have been accepted by so many.