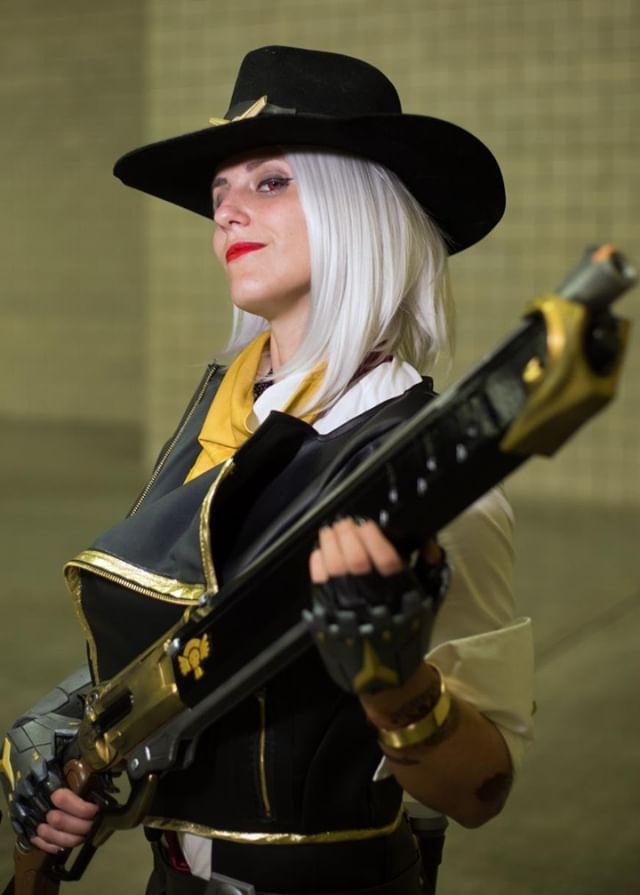 This Up and Coming Cosplayer is a remarkable woman.  She reminds me a lot of Free Safari.  She has overcome great odds and is a survivor.  She also reminds me of AlliZ Cosplay.  She is an Amazon with a great natural body honed by nature as well.  She reminds me of FeistyVee.  She is proud of her body and not afraid to share it.  Who is she?  Her name is Extraordinary Erika.
For the first time there will be more non-cosplay pcitures in a feature for an Up and Coming Cosplayer.  Extraordinary Erika is one of those cosplayers whom's life, interests, and passions rival those aspects of her cosplay life.  We not only have a truly interesting cosplayer in Extraordinary Erika, but a complete and vibrant complete person.
Ladies and Gentlemen, it's Extraordinary Erika!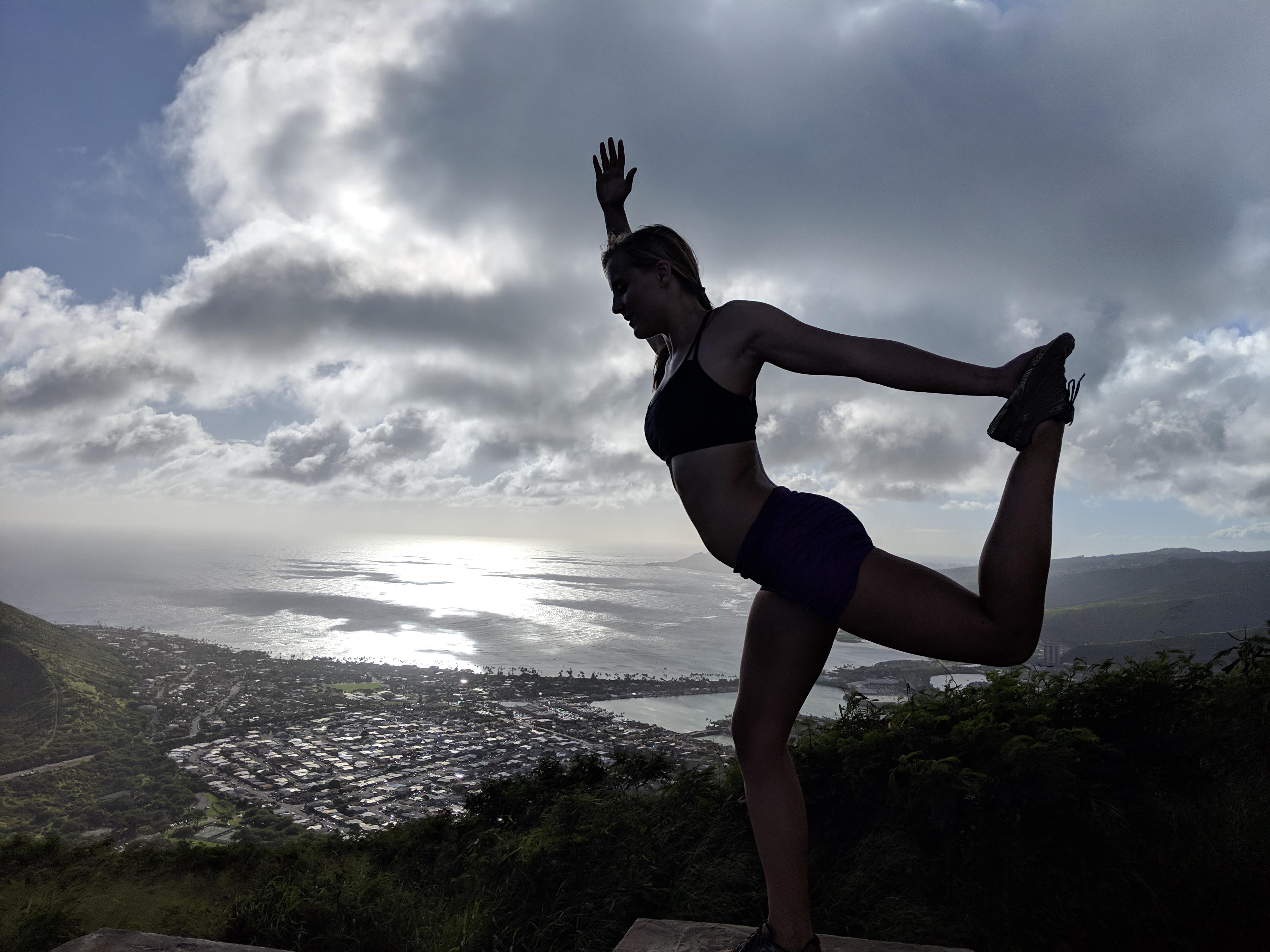 Have you always lived in Hawaii?   That's quite a place to live.   What do you love most about living there?
I actually grew up in Colorado, and lived there most of my life.  I moved to Hawaii after I finished school for a job.  I never thought that I would leave Colorado, but I also never thought I'd get an offer in Honolulu!  My favorite thing about living here is the ocean.  Back in Colorado I used to keep salt water fish tanks, but now I've upgraded to actual reefs!
For fun I ask Up and Coming Cosplayers what their superpower is, and you gave an interesting answer.   You said you have two sets of DNA.  Would you mind explaining?  How did that end up happening?
I was diagnosed with leukemia when I was 22.  After chemo failed to keep me in remission, I got a bone marrow transplant from a donor in Germany.  The effect of that is that I now have her blood, since her stem cells were used to repopulate my bone marrow.  So if a DNA test were done on my skin or organs, it would be me, but the DNA in my blood is from my donor.
Shameless plug, but being a donor is super amazing and easy, and it really saves lives.  You can sign up for free at bethematch.org.  I probably wouldn't be here today without my donor.
You look like you keep extremely active.  Were you like that before Hawaii, or is that just something you took advantage of?  Does this active lifestyle help with your cosplay? #Cosfit
I moved to Hawaii for work, but I don't think I could have gone somewhere where it's hard to go outside and do stuff.  Living in Denver I got very used to being able to hike, and snowboard, and kayak, so when I moved I had to make sure that there were new things to keep me busy.  I just got freedive certified as a level 1 diver, so that's been a really awesome new skill to learn.  While I firmly believe that cosplay is for every body type, many of the characters that I play are of a fairly muscular and lean build, and I definitely prefer to emulate that where I can in my cosplays.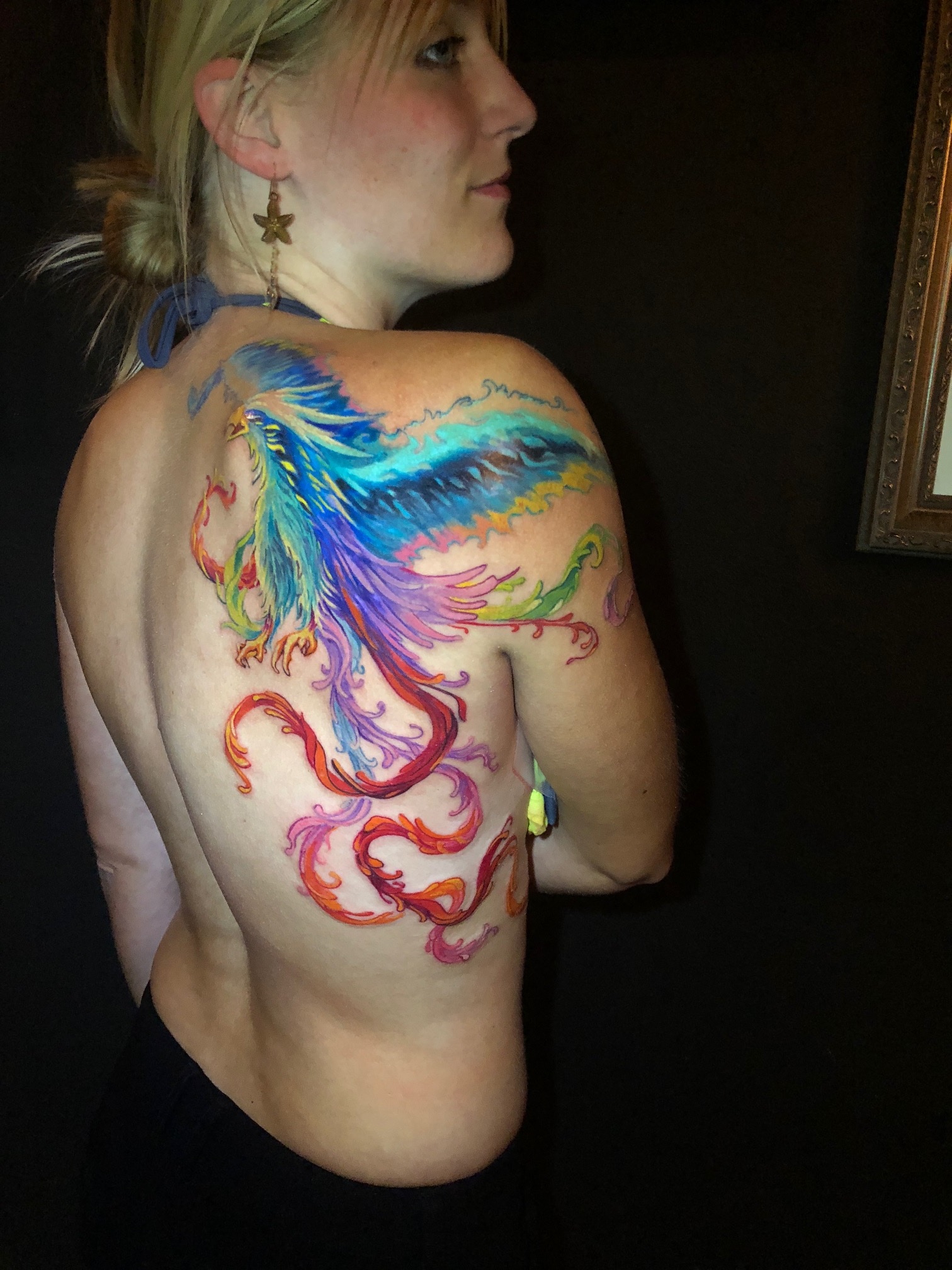 I'm really not into tattoos, but of the ones I have seen, I think your phoenix is one of the more beautiful ones. Is there a story behind it?
Phoenixes are all about rebirth by fire, so that was a huge factor in the design choice.  I got this tattoo to commemorate my 5 year cancer free anniversary.  Going through chemo and transplant was very much a trial by fire, so I thought that it was a fitting metaphor for my experiences.
I've mentioned before that you are very active and fit.   You also don't seem to be very shy about sharing it in nature.  Is there something about exotic settings or nature that sets you at ease, or are you pretty much a free spirit?
I struggle with the societal concept that the human body is something that should be hidden or that we should be ashamed of.  Nature is my happy place for sure but, it's more that.  I'm there a lot, so that's where a lot of the photos are, but I'm definitely always trying to be at peace with my body, and I'm ok with showing what I am; no more and no less.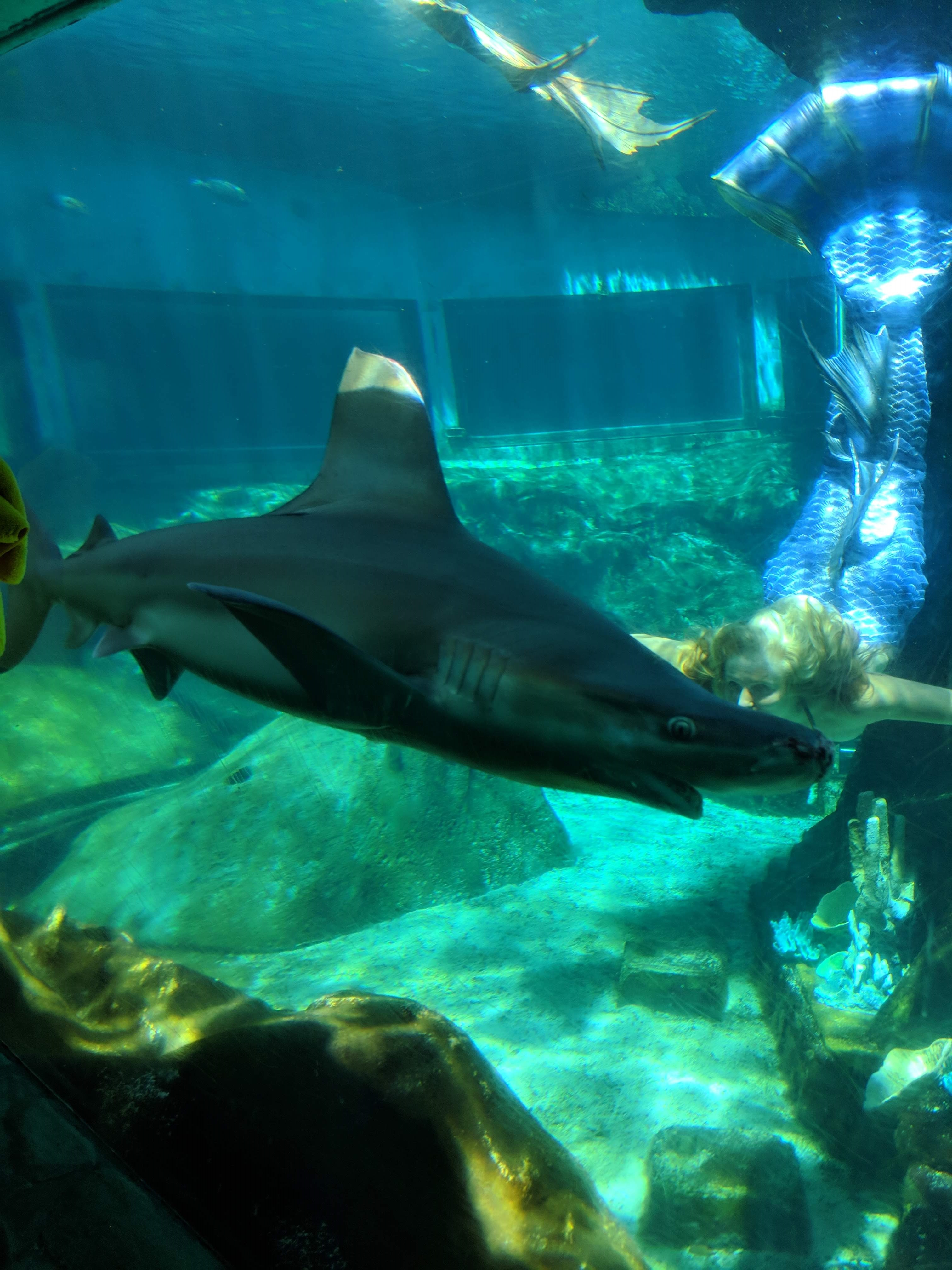 I've seen you in quite a few shots in full mermaid cosplay complete with a mermaid tail.  I've always wondered:   Is it hard to swim in one?  How do you learn?  How many tails do you own?
They're really easy to swim in!  I'm naturally a pretty strong swimmer, so they weren't very challenging.  I learned when we were at the beach and there were dolphins in the bay.  Some friends decided to go see if they would swim with us (always better to go swim and let the dolphins come to you! Don't chase animals!) and take photos.  I didn't have fins so I was offered a tail.  The monofins are good propulsion so we hopped in and ended up swimming all over the place since the dolphins were so playful.  Now I have two tails of my own:  one fabric one and a partial silicone from Merrowfins.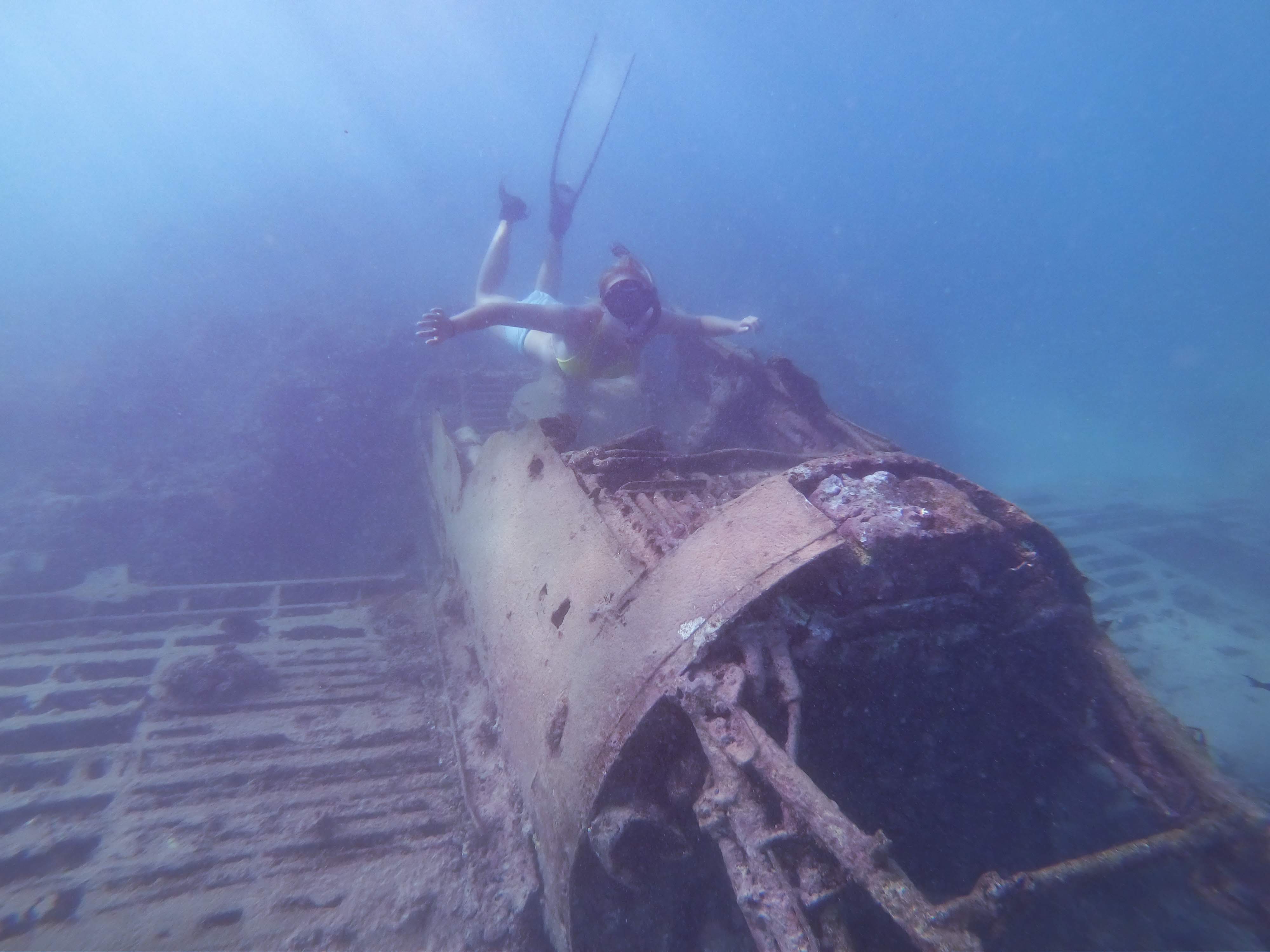 Some of the things I've seen you do look kind of dangerous.  Are you ever afraid on your adventures?   Have you ever been hurt on some of them?
Some of the hikes in Hawaii can be dangerous, but we typically don't go on those.  I do a lot of bouldering in my free time, so I'm usually pretty confident when climbing up things.  Freediving is really safe as long as you're following basic rules, like diving with a buddy and doing a proper breathe up before a long dive.  It's not uncommon to get little cuts or bruises, (reefs are sharp) but I've been lucky to have never gotten seriously injured.
Are you an actual doctor, or do you just play one on TV?
I have a Ph.D. in Chemical Engineering; real doctor, just not medical.  I've only played a mermaid on TV.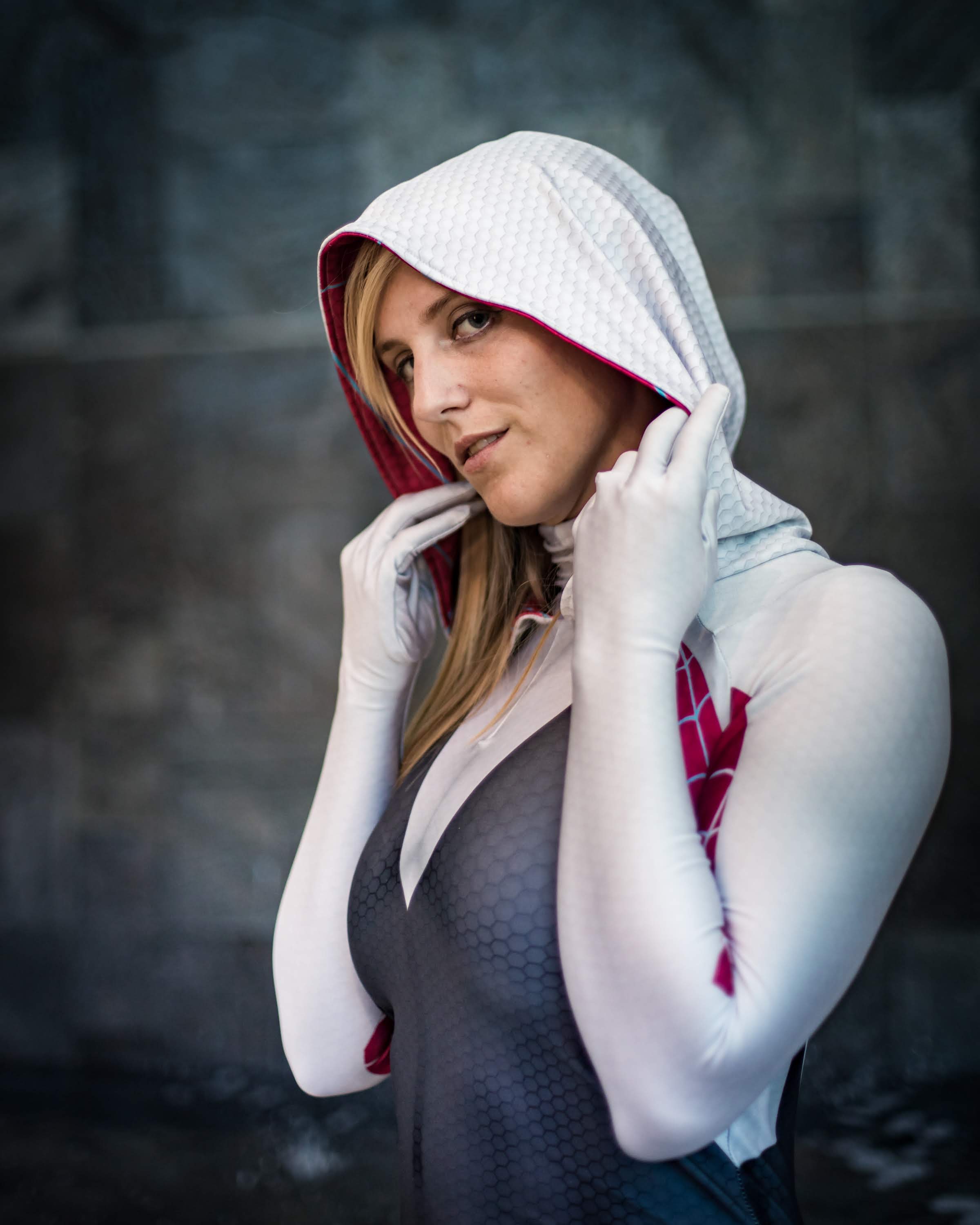 I'm going to give you two random words, and I want you to tell me the first thing that pops into your mind: "fuck" and "cancer."
Yeah, fuck that.  I have a "Fuck Cancer" poster in my room with Jane Foster as Thor by @artlidawn.  Cancer in young adults is a different beast, and there's so little data or resources for it.  If you are a YA Cancer peep, look into First Descents, they're an awesome group and there are so many people to talk to, plus there's adventures.
I know that you are a fan of Pokémon Go.   That, plus where you live and what you enjoy doing probably means a lot of cool water Pokémon in a lot of awesome places.   'Care to share the coolest examples of both?
We actually got a little screwed on PoGo.  We're apparently not part of North America, so we don't get regionals from there or anywhere else.  But there's a really big community here, so we're lucky because we can always get a good group for raids and community days are lit.  That said, I've literally seen Charmander spawning out in the bay, so I think they got a little confused on our biomes...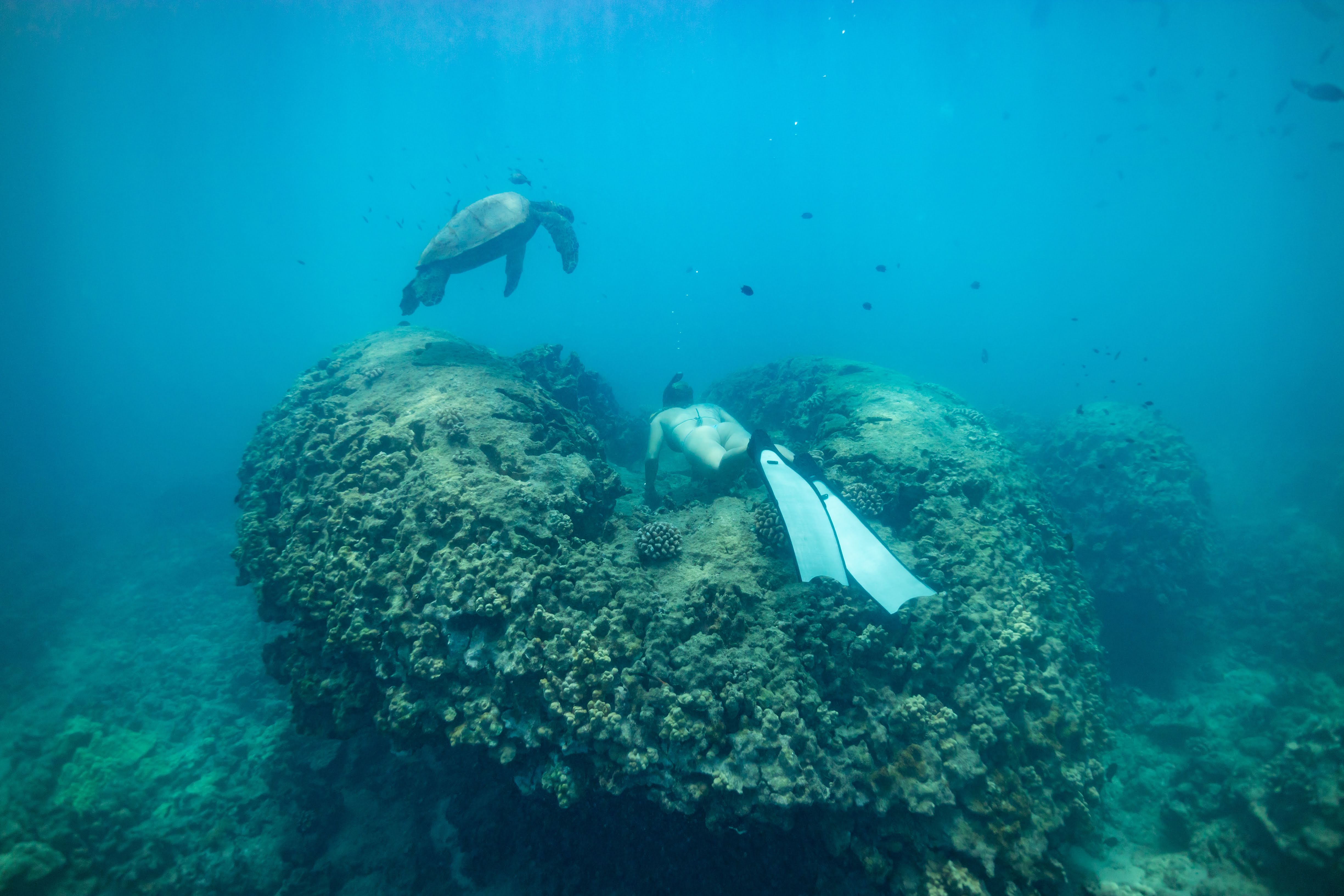 Speaking of Pokémon, you've come face to face with some pretty awesome real animals!  You've swam with sea turtles, kissed a shark, and picked up a hitchhiking octopus.   How do you get to actually meet and swim with them?  Do you just know and have access to these great places?  Are they kind of secret?
Part of it is knowing where to go.  You're nearly guaranteed to find turtles at cleaning stations, and you have to know where to find octopodes, but a big part of it is just being out in the water a lot, and having a friend who is incredible at photography really helps too.
So with all of the things you do and activities you enjoy, how did you find the time to get into Cosplay?   I think most of the questions I've asked have nothing to do with cosplay!  You may be busier than FeistyVee!
I don't even know anymore... I'm almost never not doing something.  I find the creation process in cosplay to be really relaxing, so I'll often work for a few hours on the weekend or after work.  I hate con crunch, so I usually start making something as soon as my last costume is finished.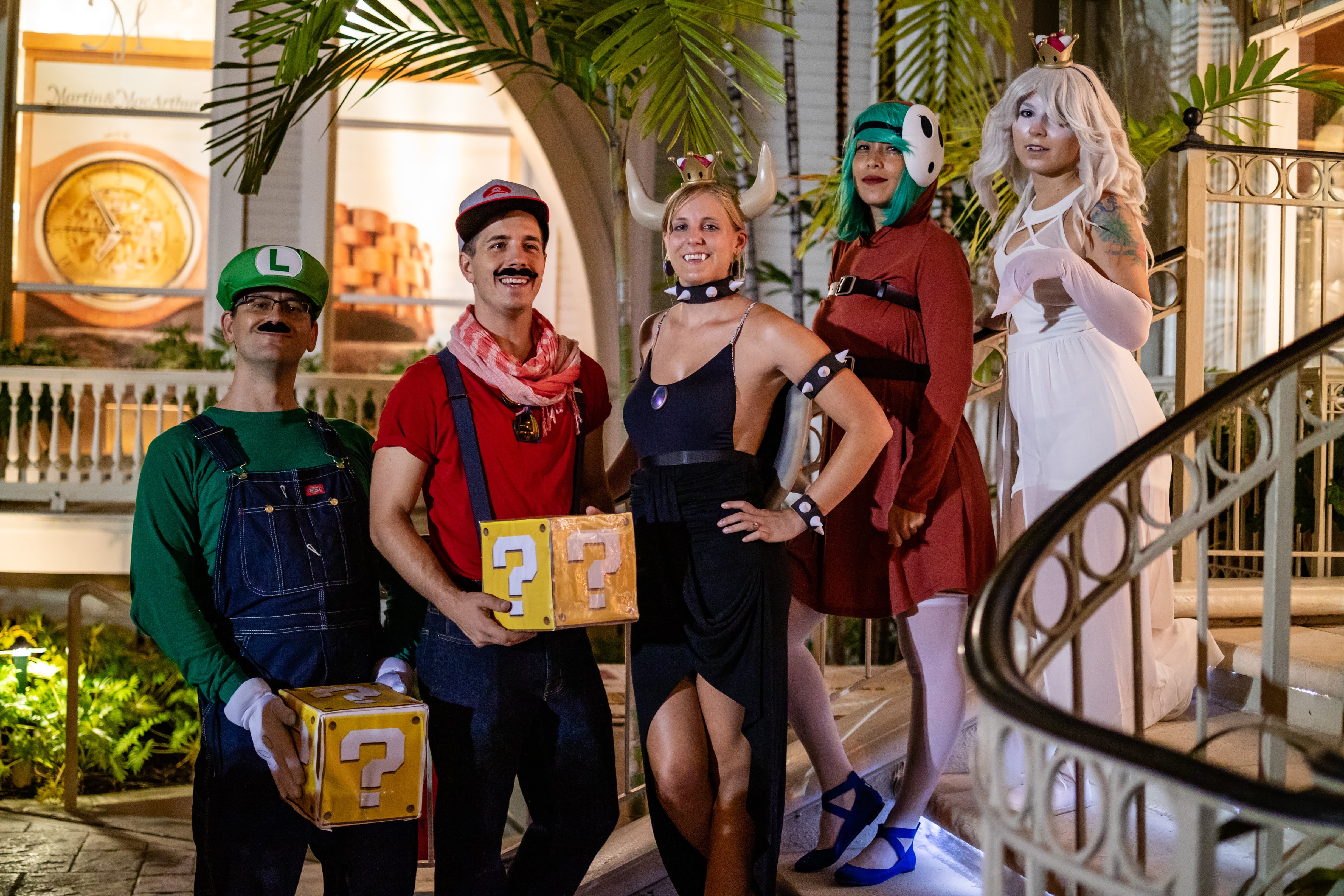 Are there any cosplayers out there that you think you would get along with, and might want to travel and go to cons with? (Personally, I think you would have lots of fun with AliZ Cosplay and FeistyVee.)
I love meeting new people and I really want to travel to some mainland cons! I've always been really inspired by Kamui Cosplay; her attention to detail is amazing, and she tends toward armor builds which are my favorite. Plus, she has really cute dogs.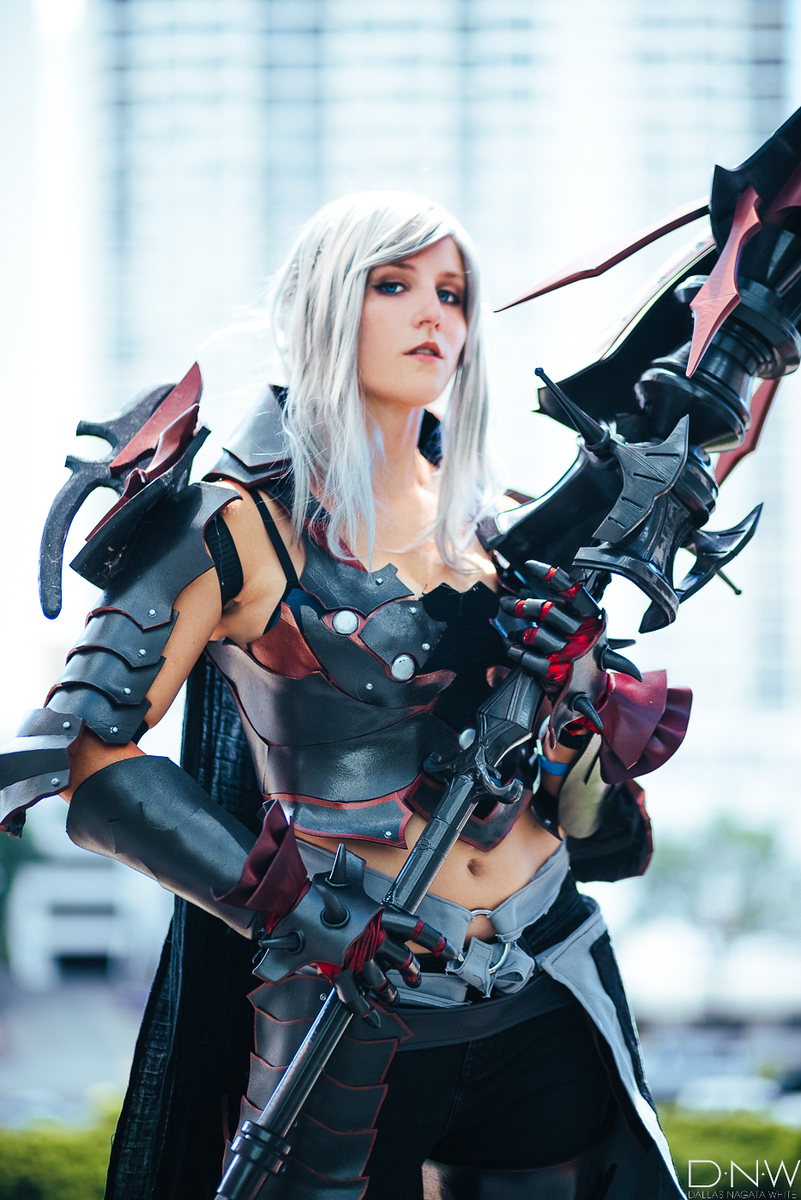 Before you kick off into the Wild Blue Yonder, do you have any inspiring words for our readers and your followers?
Thanks for the feature! I'm looking forward to making some fun stuff in the future!
Well, by now you should know the drill.  Friday we publish Extraordinary Erika's pictorial, and we think you'll like what we've done with it!
There will be a few cosplays, but it will be Extraordinary Erika in her second element:  the beaches, reefs, and waters of Hawaii!  Enjoy!
-HERETICPRIME