First off, I'd like to say that I would love it if folks from SEGA of Japan and North America could see this article.  I have been a SEGA fanboy ever since the Genesis was released in North America.  When I got my Genesis and Power Base Converter that Christmas, it was one of the most magical moments ever.  I had only owned an Atari 7800 before that, and the Genesis assaulted my senses and imagination.  Because of SEGA, to this day Mario, Link, and Samus mean nothing to be.  My home experience was a slightly scaled down arcade experience rather than the small screen made for home platforms.  Thank you, SEGA, for making my bedroom an arcade room.
Oh, and I am not a programmer.  Nor am I someone that works with computer hardware, professionally.  If I suppose or think that something could be done in this article and it cannot, please be kind.  This is more of a "love letter" to SEGA and what it meant to me a long time ago.

A lot of gamers think that the launch and support of the SEGA 32X was in the top three of SEGA's mistakes that killed off their hardware business.  I think that how they handled the 32X was.  I think the 32X had great potential, and it's success did not have to be exclusive to it's big brother, the Saturn.  As some of you know, the 32X was SEGA of America's baby.  The Genesis was still a hot success when talk of 32 Bit systems started, and SEGA of America saw it as a means to capitalise on both.  However, SEGA OF Japan wanted a truly next generation machine, and seemed to do everything in it's power to make the Saturn as seperate and standalone from the 32X as fiscally possible.  However, the success of both the 32X and Saturn could have depended on cooperation rather than pissing contests and inhouse competition.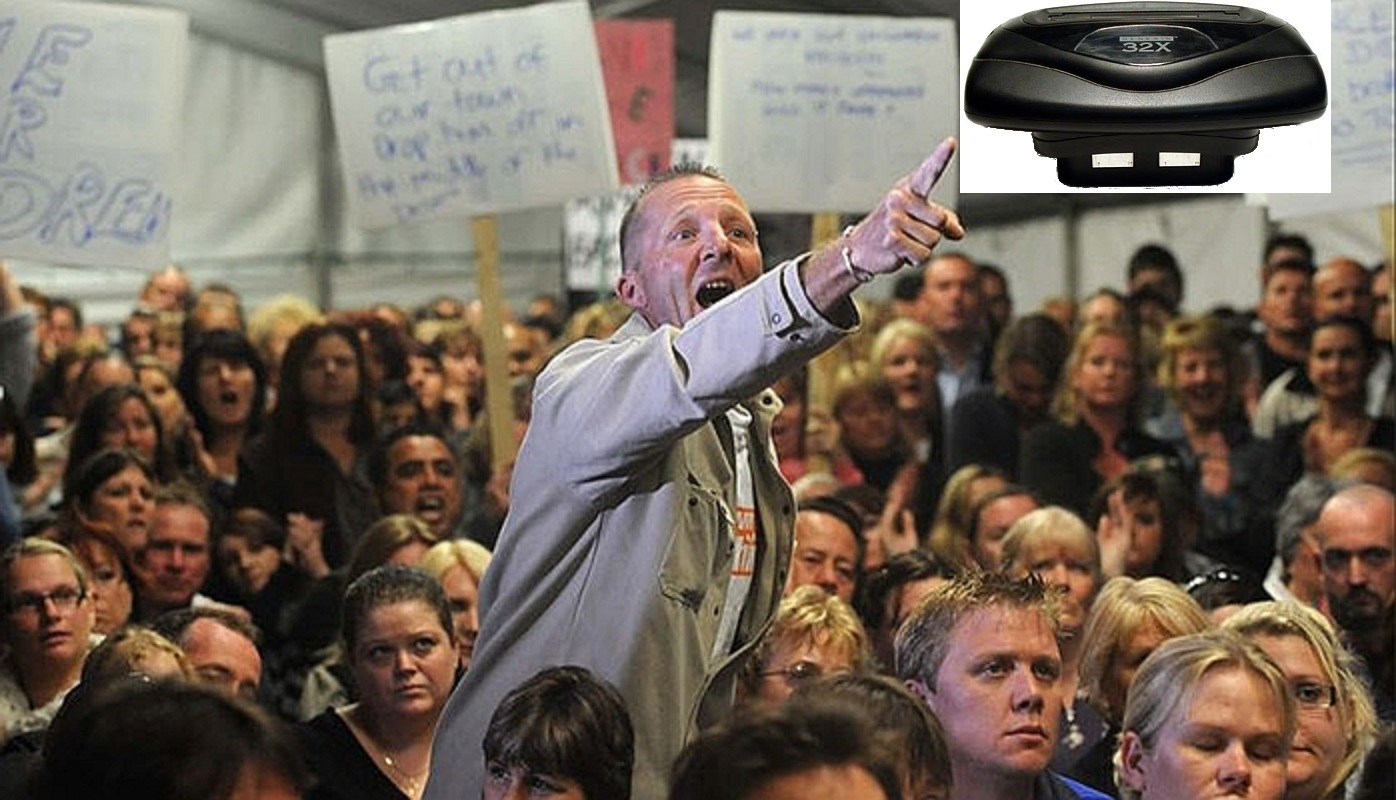 Really, the 32X wasn't that bad!  Have you even played one?
First off, if what I heard was correct, one of the reasons that the Saturn had a RAM/Cartridge slot was the success and love of the Genesis/Mega Drive.  Is there any reason that they didn't make the Saturn backwards compatible with the Genesis/Mega Drive?  True to both the legacy of SEGA and Atari, the Saturn's sound chip was the main processor of it's past generation machine.  This helped with the library of their machines because it meant an easy means for their new machines to play games from their predecessors.  The hardware was there.  All SEGA would have needed was to make the cartridge port the same as the Genesis/Mega Drive.  
How cool would that have been to play Streets of Rage 2 on the Saturn?  I'm not even sure if Genesis/Mega Drive backwards compatibility would have meant backwards compatibility with Sega CD, but I'm sure that was something might have been able to have been worked out.  The hardware power was definitely there, but that's not even that important.  The important thing is that the Saturn would have been physcially compatible with the 32X.  I know, that probably sounds blasphemous to some of you, but keep an open mind and follow me for a few more minutes. 
The SEGA Saturn was already a superior machine to the PlayStation.  The only thing that the PlayStation had on the Saturn was an easier chipset design specifically made for a home console,  and better and easier transparency technology.  The Saturn's progaming and chipset has been misunderstood and cursed with erroneous lore for decades.  It's 3D prowess was believed weaker than PlayStation's because programmers lazily made straight copied ports of PlayStation's games, completely ignoring the power of the multiple chips sets in the Saturn, which were not just slapped together without thought, but was directly influenced by SEGA's prolific legacy as an arcade giant. 
Yes, arcade machines' motherboards used multiple chips to maximise power, efficiency, and performance.  The Saturn and Genesis/Mega Drive were actually at home heirs to that legacy.  Multple processors to lighten processing loads, plus the cartridge slot that made increases in RAM and a second direct access to the processors made for gaming experiences  far beyond that of the PlayStation.  If you don't believe me, just take a look at the videos  below that compares PlayStation games with Saturn games that were built from the ground up, rather than being ported over.
Dragon Ball Z:  Legends - Please Click Below to See Video.
(Video by VCDECIDE)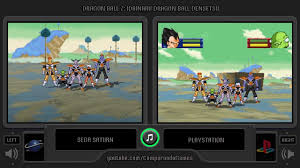 Notice the many objects on the field and how much more deail is in this.
While the PlayStation did have transparency effects, the Saturn has more 
to offer visually and does it's best to replicate the transparencies.
Street Racer - Please Click Below to See Video
(Video by VCDECIDE)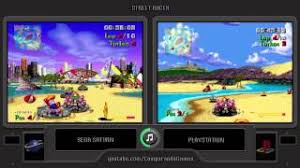 Again in the video you can see how the Saturn is able to handle more 
sprites and overall information at a time.
Dead or Alive (DOA) - Please Click Below to See Video
(Video by VCDECIDE)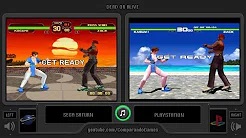 The final example is Dead or Alive or DOA as the game and
the series has also come to be known.  The difference between
the Saturn and PlayStation was so profound that the creators,
Team Ninja felt that the Saturn was not only superior, but 
Now imagine if that Saturn with the RAM/cartridge port shaped like a Genesis/Mega Drive was able to take advantage of the added power of the 32X.  Can you imagine how much more slack could be taken off of Saturn's chipsets if yet two more Hitachi 32 Bit RISC, a VDP, and a 32X VDP were pumping out power? Not only woiuld the Saturn get more parallel processing power, but an addition of 4 Meg of RAM from the 32X. Of course, this would have required forethought in the production of the Saturn to have the interface outlets possible There is no doubt in my my mind that a Saturn 32X would be able to play a decently passable version of Virtua Fighter 3, not to mention decent versions of any other SEGA Model 2 arcade games.  Saturn + 32X + 4 Meg RAM cart > PlayStation. In fact, it might have even given the PS2 the same surprising competition that the SNES gave the 32X in graphics.
Please Click Below to See Video
(Video by Top Hat Gaming Man)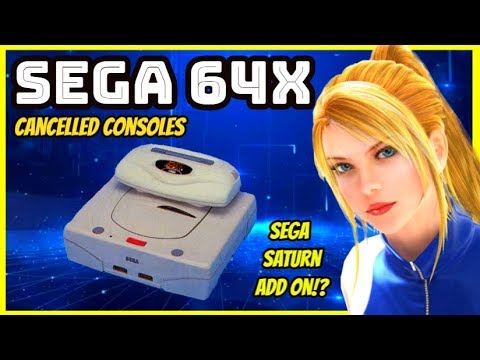 Top Hat Gaming Man researched and found an attachment that might have been in the 
works to give the SEGA Saturn that extra UMPH! that could have KOed the PlayStation
right out the box!  'Look familiar..?
Please Click Below to See Video
(Video by Michael's Retro Game Reviews)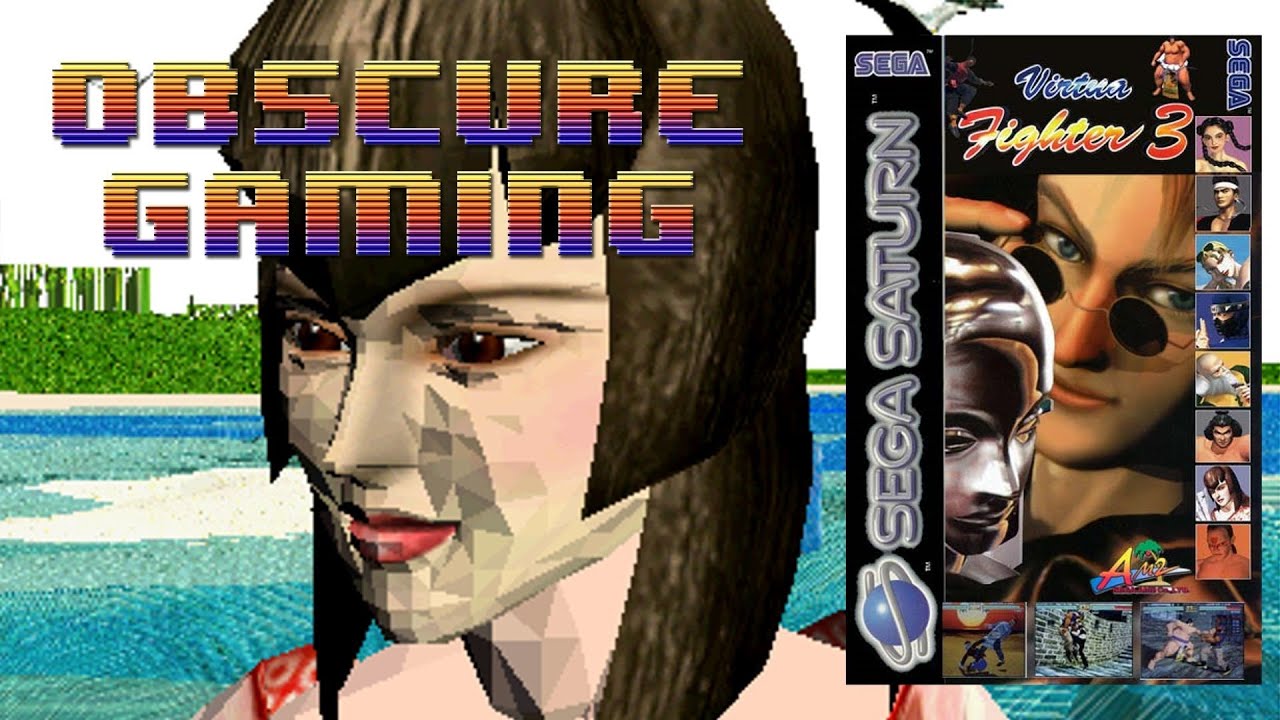 In Michael's Retro Game Reviews Channel, Michael uncovered that SEGA
almost released a Saturn version of Virtua Fighter 3.  it was speculated that
it might be possible with the latest deveolpment packs.  However, this was 
more likely to be possible because of an add-on with technology from
Lockheed/Martin.  'Sound familiar, again?  Could this have been the 64X?
Do both of these technologies get inspiration from the 32X?
Now instead of being sold for $20 a pop in clearance bins, 32X machines would have been a hotly sought after accessory in the 90's rather than a cult object of interest in today's retro gaming world.  Who knows?  SEGA might have actually had to have made more, as well as Saturns.  Maybe it would have pushed back the timeline in video game generations, increasing the quality of all gaming consoles to come.
But for this to have been possible, like I said, it would have required cooperation between SEGA of American and Japan.  It would have required SEGA of Japan to see all of the possibilities of the 32X and all of it's strengths suggested by SEGA of America.  If that failed, then SEGA of America could have also embraced the other side's suggestion of the Saturn, and sought to find a way that 32X could have played support for it's big brother, as well.  In the end while both sides failed, it ultimately falls upon the shoulders of SEGA of Japan to take the lion's share of blame.  They were the ultimate authority, and should have been more open and mature about the rivalry, especially since thier bottom line is ultimately the international bottom line of SEGA.
So what do you think?  Did what I say make any sense?  Do you think the tweeks I suggested to the Saturn's hardware and design were reasonable?  Would a 32X charged Saturn have made that much of a difference?  Comment below on that.  Share to perpetuate the debate.
I cannot think of all of the sources of information I have for this article.  Like I said, it is sort of a "love letter" to SEGA and the Saturn.  I can tell you the places that I do get my information from when I need it, and chances are that they are responsible to a great deal of what I do know and allowed me to write this article.


Thanks to The Top Hat Gaming Man and Sega Lord X.  Their YouTube channels are constants in my retro-love, and I don't miss any episodes.
There are also a couple of Facebook groups that I am in that help tremendously when I have questions in real time:  Sega Saturn Collectors of America and The PS Junkyard (Planet Saturn Junkyard).
Thanks also to David Lee and Ke Kona, fellow members in many of my Facebook groups and hosts of SEGA SATURN, SHIRO Podcast.
All of you have helped grow my knowledge and obsession with SEGA.
'See you next timie.
-HEREITCPRIME